Serpents are blown into the ears of the Damned; harlots are slung upside down across the shoulders of capering demons; all is vigorous, lusty and out of control. The message was clear; be good, you fools, or else."

Interesting as this is, the reason why we are still able to see this painting is decidedly spooky.

The painting was made on large boards approximately two feet (60 cms) deep. But as long ago as the mid-1500s the boards were white-washed over which was just as well as they were hidden from the 'do-gooders' of Oliver Cromwell's Commonwealth who would almost certainly have destroyed it.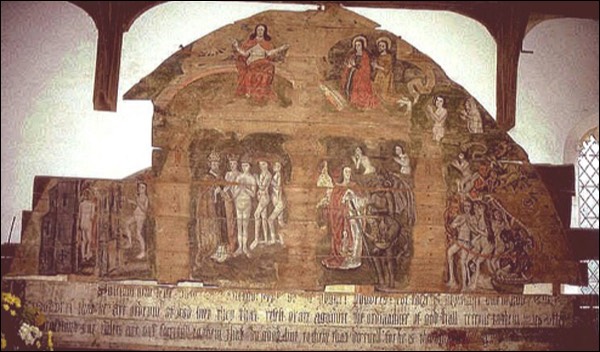 Three hundred years later in 1892 the white-washed wooden panels had been removed to enable improvements to be made to the church and stacked in the churchyard.

But that particular night it rained and the white-wash disappeared to reveal the beautiful painting and colours of the original Medieval painting to a passing Sexton.
But the story doesn't end here, at least for Toni and I.

Having got this far we obviously wanted to spend some time browsing and reading in some solitude but no sooner had we got there than a group of what we took to be noisy hikers entered the church with dogs and I was expecting them to layout a picnic - in disgust we walked out and hoped that they would leave but they had other plans...
Background Photograph taken of Wenhaston Church, Alvis Rally, 2011
Wenhaston Doom Church - 1